ZFA Fluorine lined butterfly valves, is one of the all products manufactured by ZFA VALVE. PTFE Lining Valve also known as fluorine plastic lined corrosion resistant valves, are fluorine plastic molded into the inner wall of the steel or iron valve bearing parts or the outer surface of the valve inner parts. Fluorine plastics here mainly include: PTFE, PFA, FEP and others. FEP lined butterfly, teflon coated butterfly valve and FEP lined butterfly valve are usually used in strong corrosive media.
The fluorine lined butterfly valve is one of the main products of ZFA valves. Our three classifications are as follows:
1. According to the design of the valve body, it can be divided into one-piece type and two-piece type.
2. According to the lining can also be divided into fully lined and half lined. Fully lined butterfly valve is the valve body and valve plate are lined with rubber; half lining refers to only lining the valve body.
3. According to the type, Teflon lined butterfly valves can be divided into wafer type of fluorine lined butterfly valve, lug lined fluorine butterfly valve and flange lined fluorine butterfly valve.
Fluorine lined butterfly valve features:
1. PTFE/PFA/FEP fully lined or normal lined.
2. Teflon lined butterfly valve, suitable for toxic and highly corrosive chemical medium.
3. After repeatedly sealing safety tests, PTFE seated butterfly valve has no pollution to the environment.
4. Removable split structure design. (Optional)
5. The degree of insulation complies the equipment regulations.
6. Can be installed in any position; Maintenance-free and can meet the requirements of various harsh working conditions.
7. Removable, materials can be recycled.
8. The material complies with FDA standards.
9. Sensitive action and good sealing performance.
10. The structure is simple and compact, nice appearance.
11. Sealing materials are resistant to aging and corrosion, with long service life.
PTFE Lining Butterfly Valve Types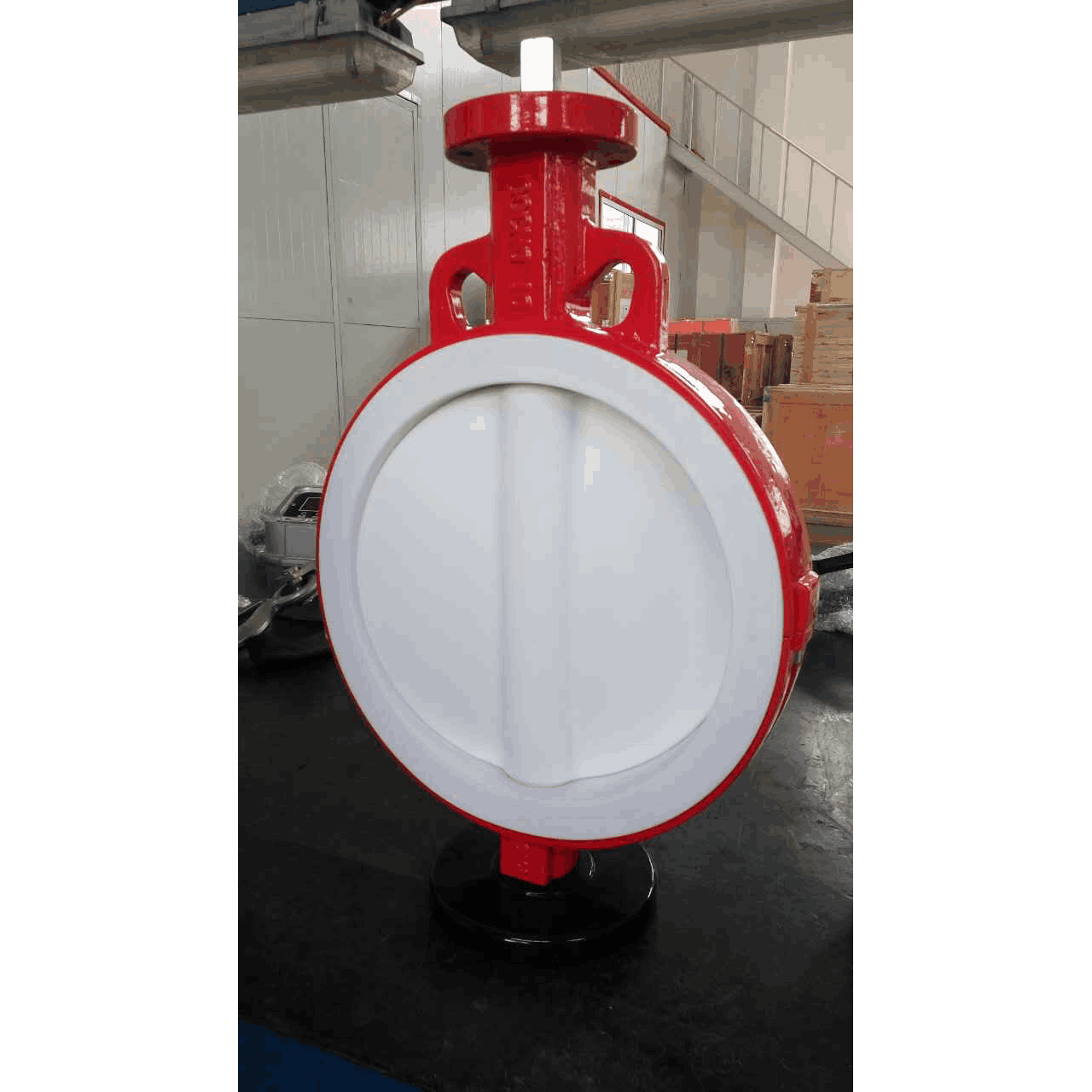 Wafer & Lug Type PTFE Lining Butterfly Valve
Wafer & Lug Type PTFE PFA Lining Butterfly Valve

Size

NPS 2" to 24" | DN50 to 600

Body Style

Wafer & Lug Type | Split Body & One-piece Body

Pressure Rating

PN10 | PN16 | CL150 | JIS 5K| JIS 10K

Drilling

PN10/16 | ASME B16.5 CL150 | JIS 5K | JIS 10K | GOST 33259

Face to Face

EN 558-20 | ISO 5752-20

Top Flange

ISO 5208 | API 598 | EN12266-1

Valve Parts Material

Body

GGG50 | A536 | A395 | WCB | CF8 (304) | CF8M (316) | CF3(304L) | CF3M(316L) | SAF 2205 | SAF2205 | C95400 | C95500 | C95800

Disc

GGG50 | A536 | A395 | WCB | CF8 (304) | CF8M (316) | CF3(304L) | CF3M(316L) | SAF 2205 | SAF2205 | C95400 | C95500 | C95800 or PTFE Coated Disc

Seat

ASTM D 4895-PTFE | ASTM D 3307-PFA | ASTM D2116-FEP

Stem

AISI 304 | AISI 420(2Cr13) | 1.4462 | Monel | 17-4PH

Actuator

Hand Lever | Worm Gear | Pneumatic | Electrical
Flange Type PTFE PFA Lining Butterfly Valve
Flange Type PTFE Lining Butterfly Valve

Size Range

NPS 2" to 48" | DN 50 to 1200

Body Style

Double Flange Type | Split Body & One-piece Bod

Pressure Rating

PN10 | PN16 | CL150 | JIS 5K | JIS 10K

Drilling

PN10/16 | ASME B16.5 CL150 | JIS 5K | JIS 10K | GOST 33259

Face to Face

EN 558-20 | ISO 5752-20

Top Flange

ISO5211

Tightness Test

ISO 5208 | API 598 | EN12266-1

Valve Parts Material

Body

GGG50 | A536 | A395 | WCB | CF8 (304) | CF8M (316) | CF3(304L) | CF3M(316L) | SAF 2205 | SAF2205 | C95400 | C95500 | C95800

Disc

GGG50 | A536 | A395 | WCB | CF8 (304) | CF8M (316) | CF3(304L) | CF3M(316L) | SAF 2205 | SAF2205 | C95400 | C95500 | C95800 or PTFE Coated Disc

Seat

ASTM D 4895-PTFE | ASTM D 3307-PFA | ASTM D2116-FEP

Stem

AISI 304 | AISI 420(2Cr13) | 1.4462 | Monel | 17-4PH

Actuator

Hand Lever | Worm Gear | Pneumatic | Electrical